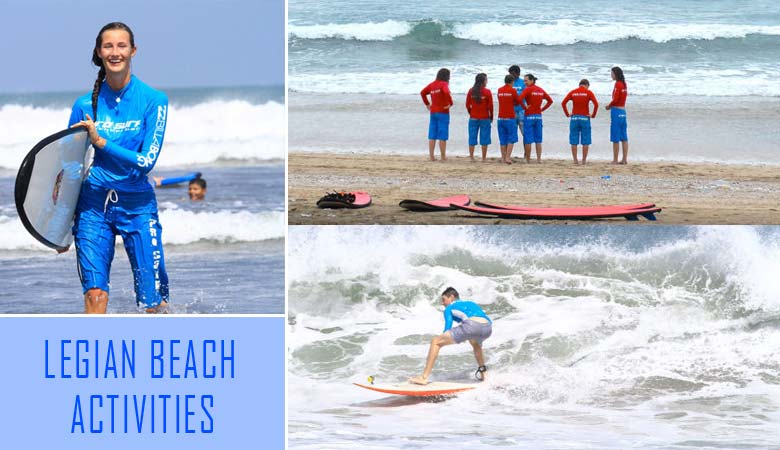 Legian is one of popular district in Bali for beach surfing activities and hotels and villas accommodation. Just a step you will find most hotel, bar and shop for fun your travelling. Now Legian has become a very busy. The most popular stretch of Legian Beach is at the bottom of Jalan Padma or called Padma Beach. Easy to get hotel accommodation at this street. From the airport to get there will take about 30 minutes depend traffic situation. If you use taxi cost is arround Rp. 100.000 ($10) – Rp. 200.000 ($20).
If you interesting to get arround the Legian, we suggest to rent a Motor bike, cost is about Rp. 50.000-100.000 a day for scooter and for other type such as motor trails is about Rp. 150.000 – 180.000 a day.
Some of may be interesting to do are : Surfing Beach, most tourist do this activities to spend their holiday in Bali especialy at Padma Beach Legian. If you beginner and want to learn surf, don't worry arround the beach easy to find counter who provide surfing lesson for beginner or for intermediate. Just sign up. COst is start from Rp. 380.000 for 2.5 hours surf lesson. If you are already familiar, we suggest to rent a surfboards with cost Rp. 50.000 for one hour.
Popular surfing company in Legian Beach :
UP2U Surf School Bali
Voted Number 1 on Trip Advisor for surf school in Legian with friendly surf teacher will make your lesson more fun and enjoy for your first surf. Up2U Surf School offers 5 level for their surf lesson package. Price start from Rp. 350.000 per person for 2.5hrs lesson. And also offers for special customer or private lesson or semi private lesson price start from Rp. 500.000 to Rp. 400.000 per person for 2.5 hrs.
Address :
Jalan Pantai Kuta, Legian
Ph. +6282144147382
Windy Sun Bali Surf School
Windy Sun is a Bali surf school operating since 2009 and gained an excellent reputation on the island.Surf lesson located right at the front of the PADMA BEACH near Kuta Beach. Our surf school provides an open, fun, and friendly learning environment, professional facilities and equipment. Our team is determined to get you standing on your board within your first lesson. Windy Sun Bali Surf School offers 3 level surf lesson and price start from Rp. 450.000. Also provide for private and semi private surf lesson with professional surf instructors .
Address :
Jalan Padma Kuta, Bali 80361
Ph. +62 87 861 676 847 / +62 81 936 126 701
Ripcurl School of Surf
Rip Curl schools is located at Legian is one of the largest surf school in Bali. This is where most of our beginner surfers come to catch their first wave. The fun beach break waves here are great for learning, and to step it up a level we'll drive you up to nearby Canggu. Here you can take on the reef breaks at Batu Bolong and Tugu to test and progress your skills. Ripcurl Scholl of Surf offers 3 level surf lesson. Price start from Rp..250.000 for 5 x 2.5 hrs
Address :
Jl. Arjuna (Doublesix Beach) Legian Kaja
Ph. 62 361 735858 After Hours Ph. 62 851 0087 1889
Fax. 62 361 733087
Pro Surf
Pro Surf offers a safe surf program with emphasis on personal focus, teamp support and friendly surf teacher. All coaches are accredited by academy of surfing instructors base in Bondi Beach Australia. Pro Surf School offers 5 Level Surf Lesson.
Address :
Jalan Pantai Kuta
Ph. +62 361 751 200
Mobile. +62 811 392 0503