There are many best place in Bali with beautiful panorama are great to plan Bali weddings photography before you getting married in Bali. We have collaboration with the best Bali Weddings Planner  "Happy Bali Wedding" to help someone who planned marriage in Bali. Starting from the mountains, hills, forests, scenic rice fields, the beach. Here are seven places to do photography or pre wedding.
Mount Batur and Lake Batur Kintamani

Mount Batur is located in Kintamani, Bangli regency. From Denpasar is approximately 125 km or 2.5 hours away by car. There are many fantastic spots for photograph or pre-wedding venues.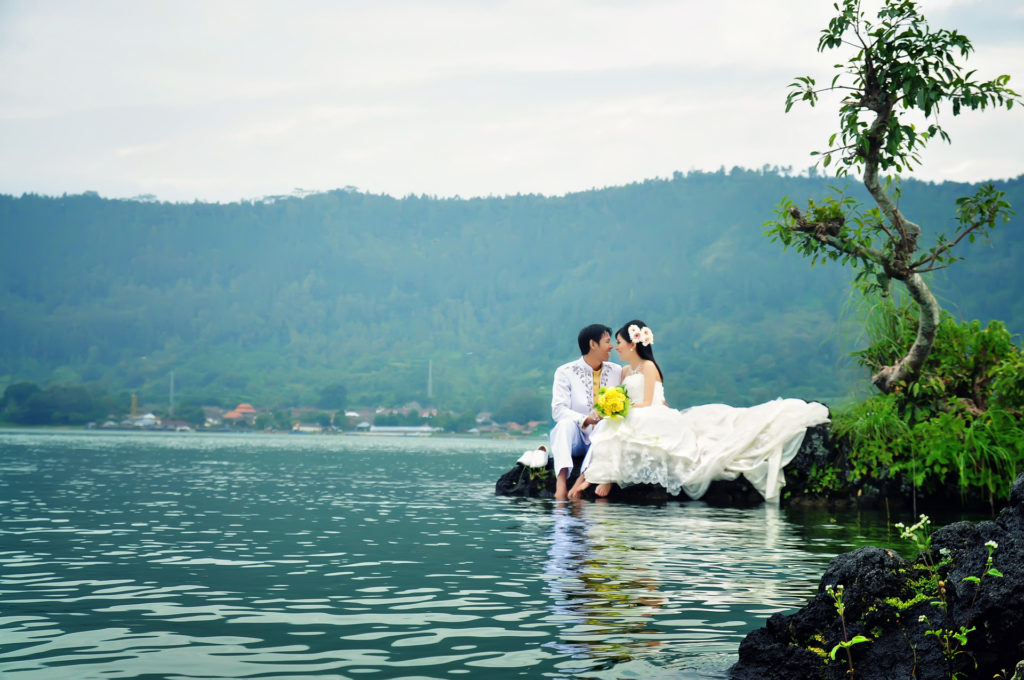 The best time to shoot that at the time of sunrise, about – about hours of 5.30am – 7am, if the weather is not cloudy, then you will be able to see the rising of the Sun with a soft sinyarnya splitting the sky with bright colors were so beautiful and will be a very dramatic moment in capture with a camera. This is something experts like the Hawaii photographers can capture.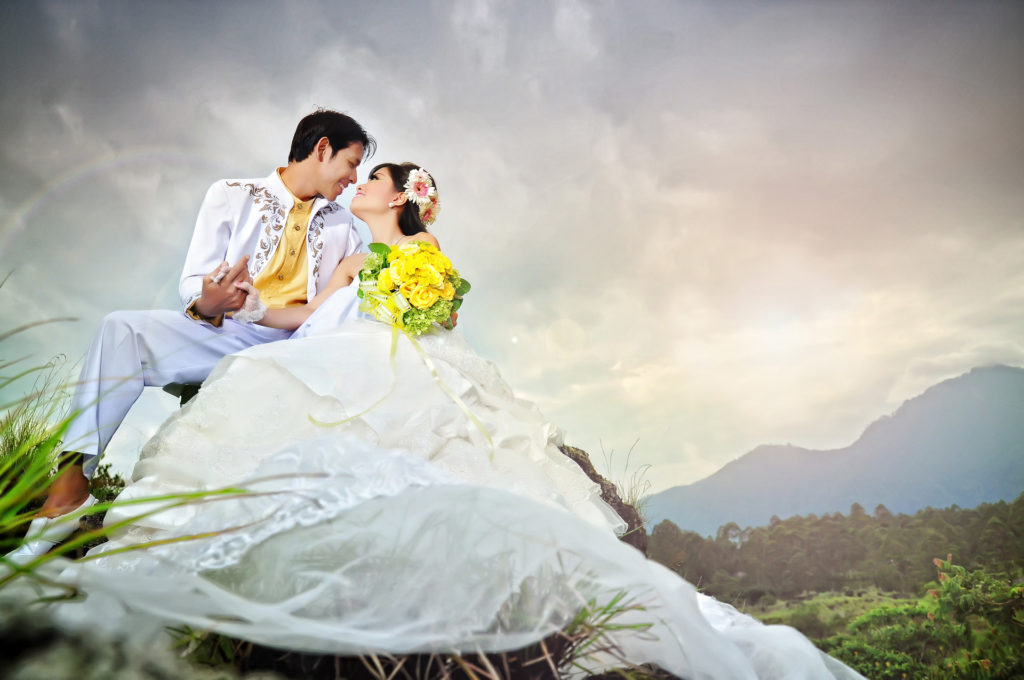 There are plenty of hotel or inn as a place to rest before the photo shoot session. Mount Batur is a fusion of Lake Batur, calm water with a lovely surrounding landscape will be a very attractive place for shooting prewedding bali.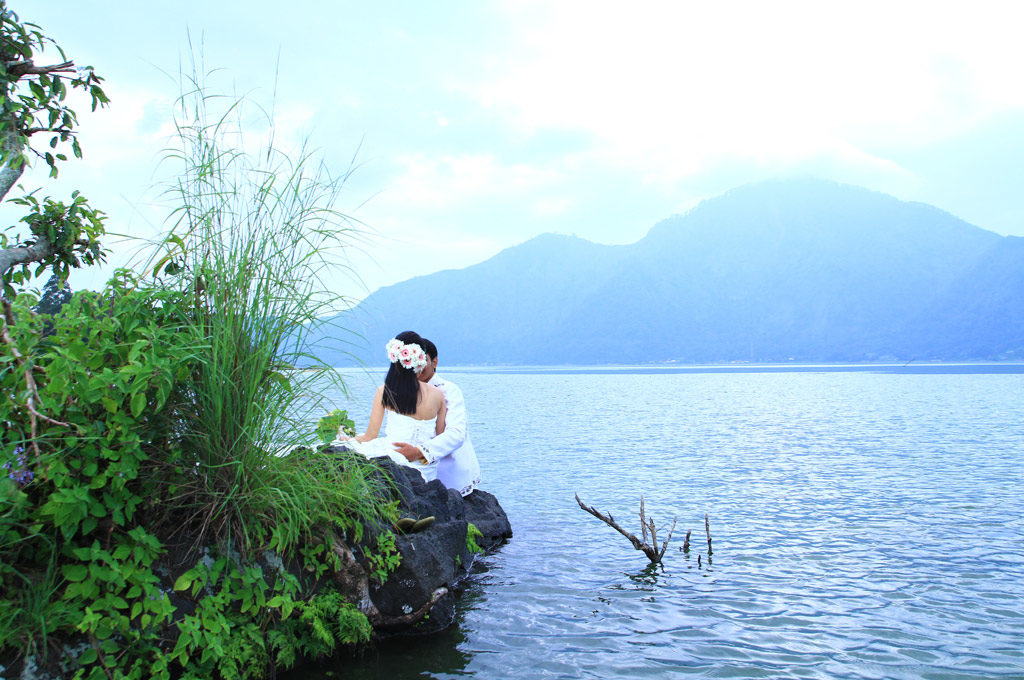 Lake Tamblingan and Ulun Danu Bratan
Located in Tabanan, this attraction is a place that is always crowded by tourists foreign or domestic. Located in the highlands create an atmosphere in acres of Lake Tamblingan and Ulun Danu Beratan is unbelievably cool, even in the area often rains.
Jatiluwih Rice Terraces
Jatiluwih Rice Terraces is a beautiful location pity if used as a photo shoot or a pre wedding photography in Bali. With the rural atmosphere of unspoiled and beautiful and very extensive rice fields and green and beautiful. To get a view of the paddy-rice grown or rice-paddy yellowing, you need to gather information from local people in what residents began planting rice, so you can capture the green rice field with a couple models are pretty and handsome.
Tanah Lot
The spot is located not far from Jatiluwih Rice Terraces, only about a 45 minute drive. Pura Tanah Lot is one of the favorite tourist spot for people – people holidaying in Bali for both Domestic or Abroad. Temple is located on the high seas is the main attraction for the trip to this place. Many photographers make this place as an alternative to taking pictures frewedding.
Seminyak Beach
Seminyak hear his words, hmmmmm ….. surely everyone knows seminyak even to foreign countries. Yes, Seminyak is arguably the center of domestic and foreign tourist destinations besides Kuta and Legian. Seminyak has beautiful beaches that can be used as a spot of shooting a couple who want to perform marriages in Bali. Pre wedding in Seminyak could be one option to capture your memorable moment during a wedding ceremony in Bali.
Beach Pandavas
With white sand, beach pandawa have a spot that is unbelievably beautiful when used as a pre-wedding photos. This beach is located in the village of Kutuh, Ungasan Jimbaran. Kira – about 40 minutes drive from Denpasar. Many photographer who made the Pandavas Beach as a destination to capture the moment every couple will hold the wedding in Bali.
Canggu
Only within approximately 10-15 km of Seminyak, Canggu could be an option for you the photographer to give a different impression of each of your shots. Yes, in the Canggu area has several places of interest such as echo beach, Brawa beach which can be used as the background of the photo shoot. You also can still find green rice fields surrounding the typical rural atmosphere.
Suluban Beach
The place is still beautiful and natural with a carpet batukarang and cliffs that surround the beach give a positive impression to every picture you. Some places like tunnels with the flow of river water towards the shore, hmmmm would be wonderful if perpetuated. With the theme could be relaxed or formal with a beautiful dress for women and dress neatly substitute for the groom, Suluban Beach right location to hold a wedding photo in Jimbaran beach theme.
Nusa Dua is also no less beautiful with other areas in Bali. Has a fine white sandy beach and in the eastern part batukarang like small islands that appear green. The place is much used as a wedding fre wedding in Bali. If you are lucky on the side of the east end, there is a very broad batukarang, in this place there could feel the sensation that menghatam blow water in your body, but must be – careful because the swift currents of the ocean, so you are advised not too close to the ravine beach.